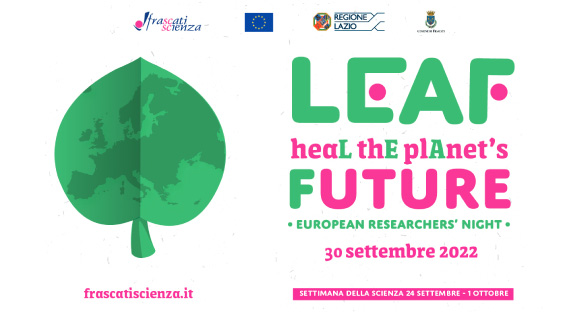 Friday 30th September, 2022 – Save the date for the European Researchers' Night, where science becomes "pop" and dialogue with the scientific community on environmental-friendly approaches and solutions opens up to all!
The event, backed by LEAF, one of the environmental sustainability projects of which we are partners, is organized by Frascati Scienza and will involve over 20 Italian cities in different science communication activities.
The long night will be preceded and followed by an eventful Science Week (24th September – 1st October 2022), with a rich agenda of environment-centred events.
The guiding theme of the European Researchers' Night 2022 and its related activities is, once again, LEAF's literal "battle call": heaL thE plAnet's Future. Because of the encouraging results coming from the past editions, this time LEAF will make a further leap forward in caring for the future of the planet. The focus this year will be on the objectives of the European Green Deal: zero km food, biodiversity, circular economy, zero pollution, elimination of toxic substances from the environment, health and well-being, energy-efficient buildings, safe energy, smart and sustainable mobility.
Also, with the new entry of the Researchers@School program introduced this year, the intent is to bridge the distance between the world of research and educational institutions by bringing research and science communication topics inside the classrooms. Starting from May, LEAF partners will create a direct link with students to raise awareness on the importance of research and innovation among younger audiences through workshops, gigalabs and talks aimed at encouraging scientific careers and pursuing STEAM (Science, Technology, Engineering, Arts and Mathematics) disciplines.
Here the press release (in Italian).