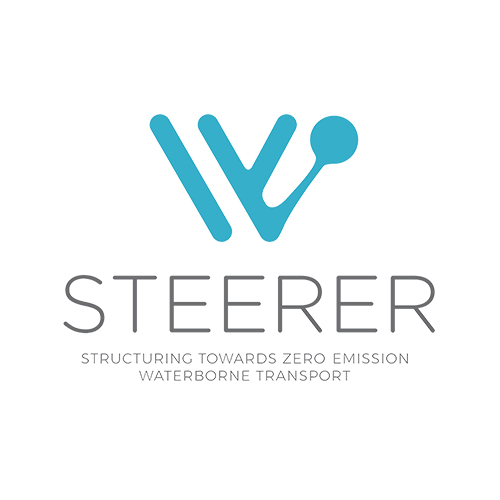 STEERER coordinates the establishment and communication of a strategic research and innovation agenda and an implementation plan towards zero-emission waterborne transport, in cooperation with all key stakeholders needed to facilitate the transformation to clean waterborne transport. The project will develop and execute an effective communication strategy, not only to raise awareness to the key stakeholders of the waterborne transport sector, but also to raise the awareness of citizens regarding the sector's strategic importance and its commitment to mitigate climate change and contribute to a healthy living environment.
*This project has received funding from the European Union's Horizon 2020 research and innovation programme under grant agreement number 875285.
Results
STEERER will focus on:
Jointly setting emission targets towards 2050 (including targets for 2025 and 2030);
Developing a Strategic Research and Innovation Agenda to be able to reach these targets in time;
Developing an Implementation Plan to reach the targets in due course, while staying competitive and offering a valid business case;
Developing and implementing a communication campaign, aimed at broader awareness of the waterborne transport sector and its commitment towards zero-emission transport.
STEERER will focus on the transition of both the existing fleet and the newly built fleet towards zero-emission performance by 2050, while respecting the need for sound business cases for ship owners and operators. STEERER will concentrate on a selection of the most promising solutions per segment of the waterborne transport sector and tackle barriers to their further development and deployment of innovation.
ISINNOVA role
In this project, ISINNOVA will organise and manage the consultation process involving the Green Shipping Expert Group as well as a broader group of stakeholders to discuss and validate the outcomes of the project.
ISINNOVA will execute a sequence of workshops and broader consultations through online surveys, aimed at discussing and validating the work leading to the development of the STEERER Agenda and Implementation Plan.
This process is divided into four clearly defined steps:
Presentation of the state-of-play in waterborne transport and discussion of potential drivers of change that would enable us to move towards zero-emission waterborne transport by 2050.
Discussion of possible future scenarios at different time-horizons (25-30-50), potentially reaching consensus over the definition and quantification of the respective targets to be archived.
Work on a common vision, identifying areas of intervention and priorities to achieve the targets as well as threats and opportunities for the waterborne transport sector.
Discussion of a draft version of the STEERER Agenda and Implementation Plan to amend them as appropriate and reach consensus.
In addition, ISINNOVA is developing a data management plan addressing open data management along with ethical and privacy issues. The Data Protection Plan will address how the project will make its data accessible, interoperable and re-usable (FAIR) and how it will be aligned with the Pilot on Open Research Data in Horizon 2020.
Partners
Shipyards and Maritime Equipment Association of Europe, Magellan-Associacao Para a Representacao dos Interesses Portugueses No Exterior, ISINNOVA, Stichting Projecten Binnenvaart, Balance Technology Consulting Gmbh, Pro Danube Management Gmbh, Koninklijke Belgische Redersvereniging vzw.
Contact
Project website