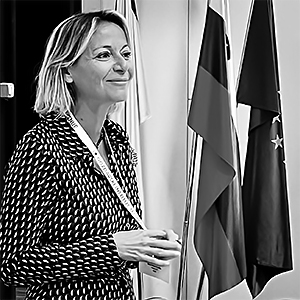 Senior Partner
Senior Researcher
Main area of expertise: Foresight
Bachelor of Law (Sapienza University, Rome)
Master of European Studies (College of Europe, Warsaw)
"Working at interface of science, policy and civil society means having the chance to drive real change – towards a more human future."
Giovanna joined ISINNOVA in 2008.
Giovanna specialises in participatory foresight processes in the fields of health, research, agriculture, energy and transport.
Facilitating stakeholder dialogues and redacting roadmaps and policy recommendations, Giovanna applies strategic thinking to the analysis of trends, weak signals and impacts, helping authorities and businesses to create and deploy long to medium term strategies and actions.
Giovanna has provided her foresight expertise to Foresight on Demand studies including, "Impact of COVID-19 on European consumer behaviour", "Science, Technology and Innovation for 2050 for ecosystem performance", and "Stories from 2050 – radical forward-looking imagery of sustainability".
Giovanna was pleased to provide health foresight during the COVID-19 pandemic within the RARE2030 – Foresight in Rare Disease Policy project.
She has coordinated citizen dialogues on the future of energy for ENABLE.EU, as well as working on EU-China research projects TRANS-EU-CHINA; URBAN-EU CHINA; URBACHINA.
Giovanna enjoys working at the interface of science, policy and civil society, and she is passionate about promoting ideas that can help transition towards a more human and sustainable future.
Speaks: Italian, English, French