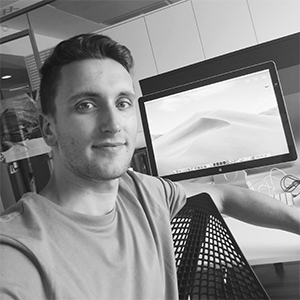 Associate
Graphic and Web Designer
Main area of expertise: Visual Design, Digital Communication
Master's Degree in Graphic Design & Visual Communication (Academy of Fine Arts – Cuneo)
"Graphic design speaks a universal language. Knowing that you can reach and be understood by so many people with just one sign, or with colours, is something extraordinary: visual design goes beyond the barriers of origin, race or gender."
Andrea joined ISINNOVA in 2022.
Andrea supports marketing and communications activities for ISINNOVA and its consortium projects with international partners. The activities include graphic design projects, brand identity, social media content creation, web design and digital stuff.
Andrea has worked in many fields like Automotive, Food, Tech and Public and for small/medium enterprises, developing all the graphic assets to best characterize their distinctive aspects.
The thought of being "motivated by the fact of not having worked on the best project yet" leads his entire career.
Andrea's favourite book is "Cromorama", by Riccardo Falcinelli.
Speaks: Italian, English